Process of Clothes
Production Processes
We are not your regular apparel manufacturer.
We have created a unique production system in the factories we own overseas, and in Japan we provide all-inclusive services from planning to delivery, responding to customers' orders with high -quality products.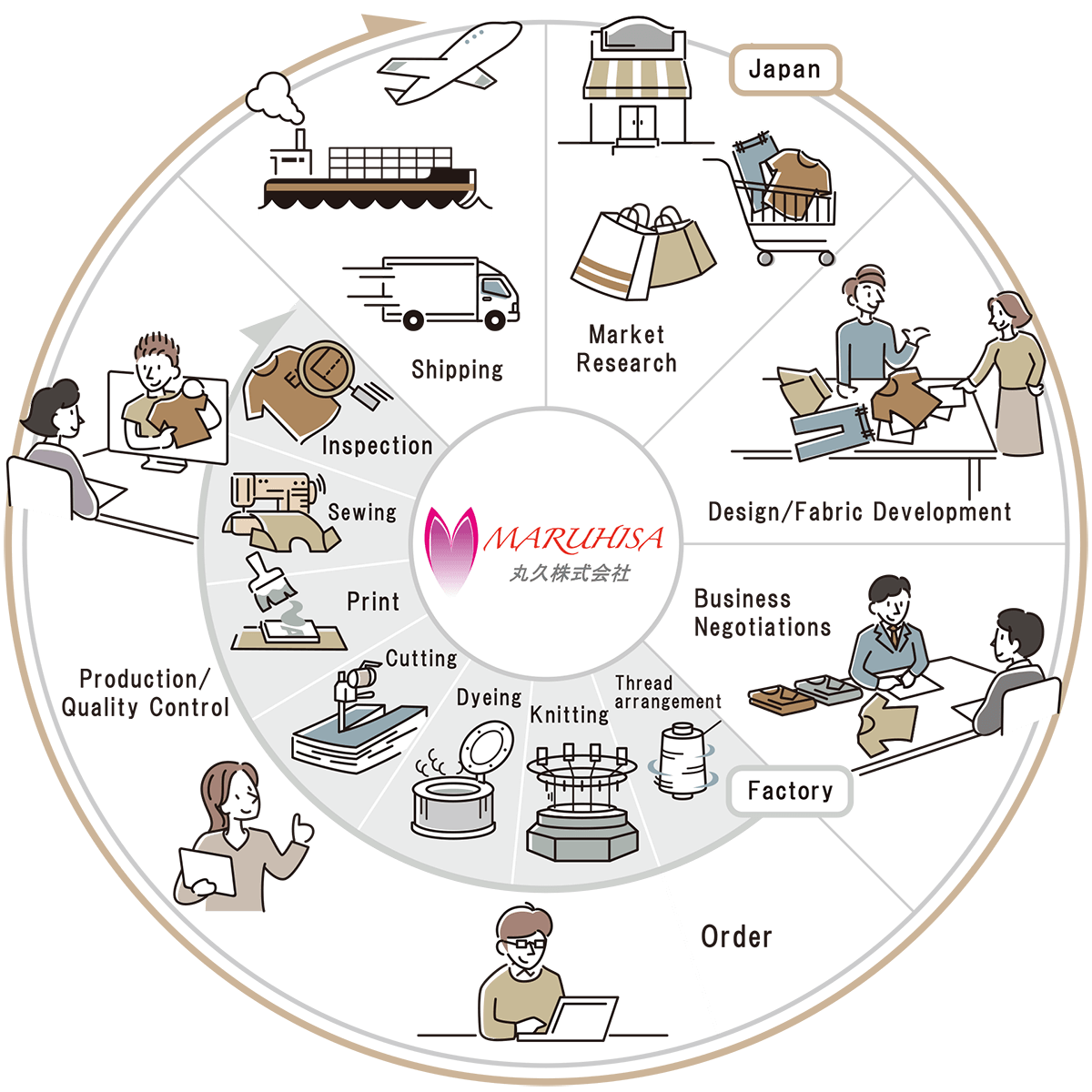 Our areas of business that ensure "Japan Quality"
The following are the business areas in which Maruhisa is working to realize "Japan Quality."
Building the environment
Factory Audits

On-site inspections based on strict internal standards, carried out by manufacturing professionals.
Guidance and confirmation from an established production system for customer satisfaction.

Japanese Staff

Expert artisans from Japan are on-site at our factories to uphold our standards of "Japan Quality".
Integrated Production
Our Factories

Maintaining quality with a system in which all knitting, sewing, dyeing, testing, and inspection are performed in-house.

Head Office Control

An internal system to ensure quality for customer satisfaction, guided by detailed specifications from Maruhisa head office.

Trade

A unique in-house system for comprehensive trade and logistics management.
Maintaining Product Quality
In-House Inspections

High-level in-house inspection labs at our factories and head office run under the guidance of public inspection agencies.

In-House Testing

Testing teams at our factories and head office conduct thorough quality checks.
Our system, established under the strict standards of a major Japanese company, is capable of shipping products of consistent quality.
Proposal Capabilities
Marketing Research

A system for market analysis that observes people and times, anticipates trends, and regularly conducts market research, incorporating cutting-edge survey information into product planning.

Planning

Proposing plans aligned with our clients' concepts, using information obtained from marketing research to meet or exceed their expectations.

Fabric Development

Developing fabrics with the creation of added value in mind, based on data from our clients and market research.
Constantly honing our technology to create a development environment that places importance on quality and safety.